jamesfawcett wrote:
crucian wrote:
The timing will not change if you adjust your fuel table. Have someone drive while you adjust the fuel tables in vacuum while cruising. Getting your AFRs perfect while cruising takes some time. But when complete, your car will drive like a charm.
thank you ok thats great, the fuel tables i have from them are not even, is this normal?: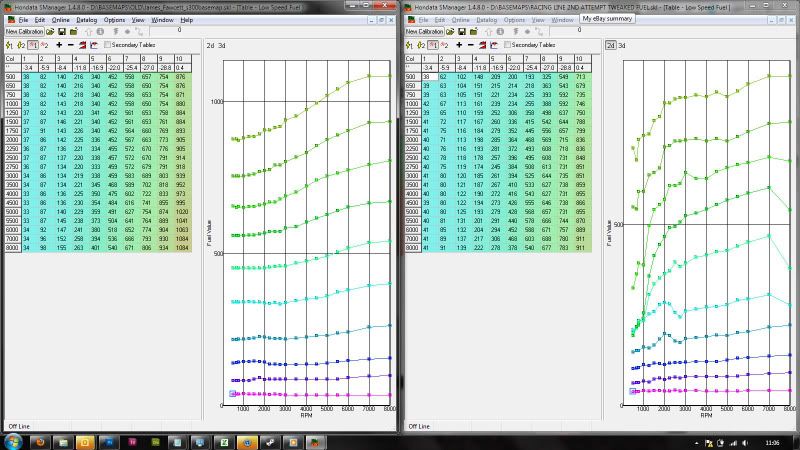 the one on the left is my original fuel table which worked really well in closed loop the car drove well.
the one on the right is how it is now from the tuners, running rich when you decelerate, running lean when you accelerate, and closed loop doesnt work,
ill have a go this week with a friend :) is it normal for fuel tables to be this uneven?
thanks
james
I assuming that u are using a wide-band AFR for your road tune :)
Just to share some stuff I pick up from using the S300.
1) Target Lambda target is not useful for tuning. This is because when u throttle off, the reading of the AFR are taken in account, resulting in inaccurate output.
What I do is that I hold the throttle at a constant position untill the AFR reading does not fluctuate much, take note of the AFR, RPM and MAP senor reading. Then adjust the values of the cell and cells around it.
2) Another thing to do for tuning in close loop is to change the short term fuel trim adjustment to 0% for both min and max before tuning. Once u r done w tuning, revert back to the original settings. This is to prevent the ecu from interfering adjusting the fuel during your tune. (Do remember to reset the ECU before tuning to remove any long term trim adjustment)
(There are too many variables in open loop tuning which need adjustments. eg. ECT, IAT, fuel and ignition compensation. Keep it simple by tuning in close loop with above settings)
love the mini with the boosted B engine. Should be fantastic fun!